Quoc-Tuan Truong
Xin chào! I am a PhD student at Singapore Management University. My advisor is Professor Hady W. Lauw. I received my BSc degree in Computer Science from Vietnam National University Hanoi. During my PhD, I have been awarded the Presidential Doctoral Fellowship and Dean's List. I was also fortunate to receive the Honda Y-E-S Award in Vietnam.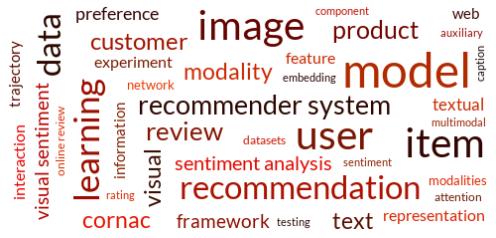 Research Interests:
Machine Learning Methods
Information Retrieval: Search and Recommendation
Mining the Web and Human Behavioral Data
Most of our publications are associated with code and dataset(s). Ping me if you can't find them.
Quoc-Tuan Truong, Tong Zhao, Chenghe Yuan, Jin Li, Jim Chan, Soo-Min Pantel, and Hady W. Lauw. AmpSum: Adaptive Multiple-Product Summarization towards Improving Recommendation Explainability. ACM The Web Conference (WWW), 2022.
Quoc-Tuan Truong, Aghiles Salah, and Hady W. Lauw. Multi-Modal Recommender Systems: Hands-On Exploration. Tutorial at ACM Conference on Recommender Systems (RecSys), 2021. [pdf] [website] [materials]
Quoc-Tuan Truong and Hady W. Lauw. Variational Learning from Implicit Bandit Feedback. Machine Learning (MLJ), 110(8):2085–2105, 2021. [pdf] [slides]
Quoc-Tuan Truong, Aghiles Salah, Thanh-Binh Tran, Jingyao Guo, and Hady W. Lauw. Exploring Cross-Modality Utilization in Recommender Systems. IEEE Internet Computing, 25(4):50–57, 2021. [pdf] [code] [data]
Quoc-Tuan Truong and Hady W. Lauw. Sentiment-Oriented Metric Learning for Text-to-Image Retrieval. European Conference on Information Retrieval (ECIR), 2021. [pdf] [code] [data] [slides]
Quoc-Tuan Truong, Aghiles Salah, and Hady W. Lauw. Bilateral Variational Autoencoder for Collaborative Filtering. ACM International Conference on Web Search and Data Mining (WSDM), 2021. [pdf] [tutorial] [code] [data] [slides] [poster]
Quoc-Tuan Truong, Hady W. Lauw, Martin Aumüller, and Naoko Nitta. Reproducibility Companion Paper: Visual Sentiment Analysis for Review Images with Item-Oriented and User-Oriented CNN. ACM International Conference on Multimedia (MM), 2020. [pdf] [code] [data]
Aghiles Salah, Quoc-Tuan Truong, and Hady W. Lauw. Cornac: A Comparative Framework for Multimodal Recommender Systems. Journal of Machine Learning Research (JMLR), 21(95):1–5, 2020. [pdf] [website] [code]
Quoc-Tuan Truong and Hady W. Lauw. Multimodal Review Generation for Recommender Systems. ACM The Web Conference (WWW), 2019. [pdf] [code] [data] [slides] [poster]
Quoc-Tuan Truong and Hady W. Lauw. VistaNet: Visual Aspect Attention Network for Multimodal Sentiment Analysis. AAAI Conference on Artificial Intelligence (AAAI), 2019. [pdf] [code] [data] [slides] [poster]
Quoc-Tuan Truong and Hady W. Lauw. Visual Sentiment Analysis for Review Images with Item-Oriented and User-Oriented CNN. ACM International Conference on Multimedia (MM), 2017. [pdf] [code] [data] [poster] [medium]
Tuan-Phong Nguyen, Quoc-Tuan Truong, Xuan-Nam Nguyen, and Anh-Cuong Le. An Experimental Investigation of Part-Of-Speech Taggers for Vietnamese. VNU Journal of Science: Computer Science and Communication Engineering, 32(3), 2016. [pdf]
Thai-Le Luong, Quoc-Tuan Truong, Hai-Trieu Dang, and Xuan-Hieu Phan. Domain Identification for Intention Posts on Online Social Media. Symposium on Information and Communication Technology (SoICT), 2016. [pdf]
Thai-Le Luong, Thi-Hanh Tran, Quoc-Tuan Truong, Thi-Minh-Ngoc Truong, Thi-Thu Phi, and Xuan-Hieu Phan. Learning to Filter User Explicit Intents in Online Vietnamese Social Media Texts. Asian Conference on Intelligent Information and Database Systems (ACIIDS), 2016. [pdf]
Phuong-Nam Tran, Van-Duc Ta, Quoc-Tuan Truong, Quang-Vu Duong, Thac-Thong Nguyen, and Xuan-Hieu Phan. Named Entity Recognition for Vietnamese Spoken Texts and Its Application in Smart Mobile Voice Interaction. Asian Conference on Intelligent Information and Database Systems (ACIIDS), 2016. [pdf]
Misc